Project Overview
A dozen students, ranging from 14 – 24 years old, came together to play a leading role in this Listening Campaign sponsored by Alameda County Office of Education. In partnership with Alliance for Arts Leadership of Alameda County, REACH Ashland Youth Center, and Story For All, the goal of this project is to hear from students, teachers and others around the Bay Area to help ensure our students are getting the best possible education and opportunities.
We are collaborating with REACH Ashland Youth Center and Tassiana Willis of Youth Speaks to train the students in interview skills and support them in recording interviews with students, educators, principals, and others across the East Bay. They will be asking people to consider the role of arts in education, how education prepares youth for their future, and how we inspire their creativity. This team will then reflect on what they've learned and produce a series of blogs and podcasts to amplify the community wisdom and help inform a community plan.
At a time when the voices of our youth – our next generation of leaders – are most essential, we have the rare opportunity to prioritize youth voice. We are grateful that our partners at ACOE recognize that our youth are crying out to be listened to, and that they hold the answers.
Much to contemplate, and more to come.
The process of youth-led interviews allows a few things to happen at once. First of all, these youth get a crash course in communication, connection, and civic engagement. They speak their truth and become the holders of their community's wisdom. In addition, the interviews provide us with insights that can only be expressed through the very human act of sharing stories.
We look forward to sharing these voices with you.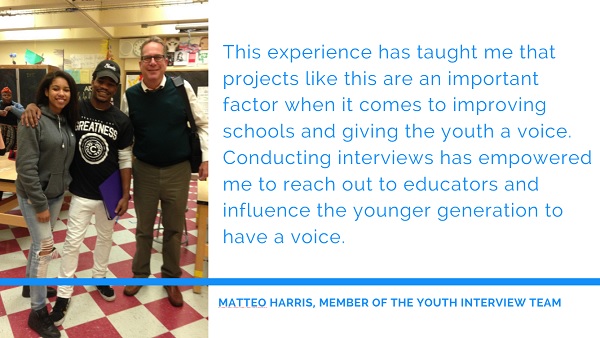 We are entering Phase 2 of this project. Stay tuned to hear more from our students!