Making a Community Healthy
Story for All partnered with Hayward's Cherryland Elementary to bring an after school class series focused on health. Students learned active listening, journaling and interview skills. Students had the opportunity to interview their parents, teachers, peers and community leaders.
During the process, students both uncovered data and became part of the conversation on what makes their community healthy.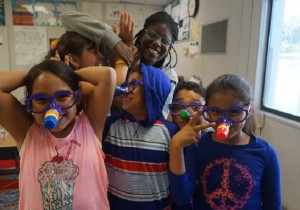 A Story to Tell: My experience at Cherryland Elementary School
Read about about this eight-week series from the eyes of the instructor Pendarvis Harshaw (SFA Board Member and Journalist). Full story here.
Other Locations of The SHINE:
Contact us to learn how you can join this movement and support The SHINE in your community today.

The SHINE Hayward Health
 "This class taught me more about people and how to treat them better. I also got to use new technology and record interviews. This class was a lot of fun!" ~SHINE participant.
"I would like to take this class again so I can write about my life and share it with others," ~SHINE participant.