These awards honor the intention behind our work, which is to create a more just and humane world through the sharing of stories.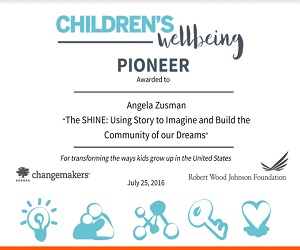 The SHINE – Top project in Children's Wellbeing network
The Children's Wellbeing Initiative believes that children thrive when they develop a strong sense of self, belonging and purpose. The SHINE is being recognized as a top project for this initiative. Through the use of story to imagine and build the community of our dreams, students can co-create their learning and living environments to meet their unique needs and potential.
Click here for more information.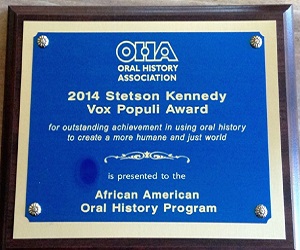 Winner: Vox Populi Award
Vox Populi means "Voice of the People." In addition to recognizing excellent oral history execution, the award from the Oral History Association recognizes "outstanding achievement in using oral history to create a more humane and just world." This phrase encapsulates the mission and vision of Story For All. Truly, we exist to uplift the voices of the people in ways that not only amplify important wisdom, but also lead to narrative change, policy change and ultimately to personal and community transformation.
Click here for more.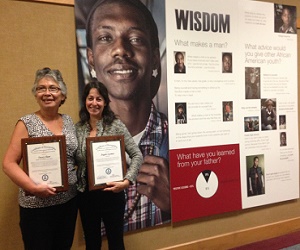 Winner: Public Education Service Award
"Alameda County Board of Education and Superintendent of Schools commend Angela Zusman, and her non-profit Story For All, for their outstanding commitment to uncovering and sharing the voices of under served youth in our community. We recognize Story For All for its critical role in dismantling stereotypes, humanizing the youth among us and revealing their innate beauty, brilliance and dreams."
Click here for more.
School Library Journal's Best Adult Books for Teens 2014
After two years of training, several young African American men in Oakland, CA conducted research, crafted questions, and conducted more than 100 oral-history interviews with African American males ages six to 24. The result is this book, at once gorgeous to look at and challenging to readers' views of African American men.
Click here for more.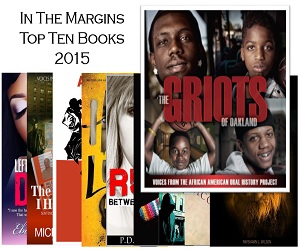 In the Margins Top 10 Books for 2015
We are over the moon and so very thankful to announce that Griots of Oakland has been selected for the In The Margins top 10 list. In the Margins is committed to promoting and highlighting diverse books and voices that have been in the margins. ITM strives to find the best books for teens living in poverty, on the streets, in custody – or a cycle of all three.  
Click here for more.