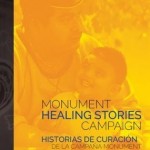 Story For All, Kaiser Permanente and Healthy and Active Before Five have partnered to learn from Concord, California community members about their healthy eating and active living choices. Click here to read the full report on Kaiser Permanente's website.
Project Overview
The connections between community conditions and health are well documented. Health education and access to healthy options are only part of the solution. To learn about underlying conditions that impact the health-related decisions people make, SFA partnered with Kaiser Permanente and Healthy and Active Before Five to bring an innovative peer-based research project to Concord's Monument Corridor.
A team of community members ranging between 15 and 71 years old learned about oral history methodology and then conducted interviews with their neighbors on topics such as exercise, food, safety, community and family. After reflecting on what they heard and experienced, they offered recommendations on ways to improve their community's health.
The brochure images below include data derived from the community interviews. Participants presented to local and Kaiser stakeholders.