We are over the moon and so very thankful to announce that
Griots of Oakland
has been selected for the In The Margins top 10 list. 
In the Margins
is committed to promoting and highlighting diverse books and voices that have been in the margins. ITM strives to find the best books for teens living in poverty, on the streets, in custody – or a cycle of all three. 

 
Librarian and advocate Amy Cheney adds, "
Authors on our top ten list are doing great work in their communities; we hope that this acknowledgement from us gives more validation that their work are impacting kids in the larger community of our nation as well. We have evaluated and used these titles across the country and in Canada." 
Click
here
for the complete In The Margins Top Ten Book list for 2015.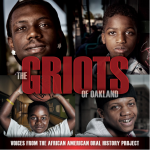 The Griots of Oakland: Voices from the African American Oral History Project. 
Story for All. October 2013. 206p. HC $59.99. ISBN 9780988763111. PB $14.99. ISBN 978-0988763104. Got stereotypes? Get 
Griots
. How do African American young men from Oakland, California define themselves? What's important? What wisdom do they have to share? It's all here in striking photographs, visually appealing graphics and short narratives. The hardback is of higher photographic quality, but the paperback makes the book accessible to everyone. The Oral History project that created this book can be replicated in other communities.