"Life's most persistent and urgent question is: 'What are you doing for others?'"     
~Dr. Martin Luther King, Jr.
Each year, on MLK Day of Service, Americans nationwide gather to give back to their neighbors, to their community. Every year, on this day, people from every background unite with the common goal of finding solutions to issues in their communities. And they don't disappoint!
Here's just a glimpse of what was accomplished on 2014's Day of Service: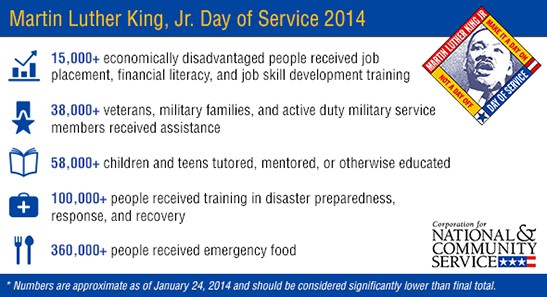 I'm inspired! Join me, join your neighbors, be part of the national movement that unites us with the common goal of bettering our communities and let's blow 2014's numbers sky high!
Not sure where to start? Below are a few resources which will provide you with a list of volunteer opportunities in your community.