Young African-American men speak up about what it's like living in Oakland.
For once the cover of a book does it justice. The Griots of Oakland: Voices from the African-American Oral History Project is a  gorgeous volume, richly illustrated with dozens of photos of African-American males sharing their answers to questions from, "Are you going to college?" to "What's it like being a young African-American man in Oakland?" Their answers will probably surprise you.
Read Julia Park Tracey's entire article in The Monthly here.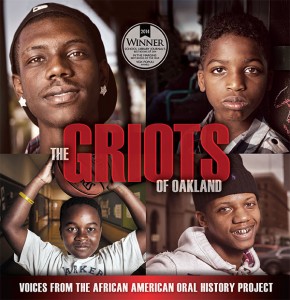 Source: Tracey, Julia Park (2015, July), Stories in Voices Yet Unheard, The Monthly, volume 45 number 10, 8.
Images courtesy of Alameda County Health Care Services Agency Center for Healthy Schools and Communities.