As I approached the school's cafeteria, I could hear the angelic giggles of carefree adolescent souls, golden as the Northern Californian spring sunshine that caused the school's playground to glow. As I entered the cafeteria, where the after school program students were gathering their afternoon snacks, the sound of giggles was drowned out by the extremely loud smell of sticky fingers. It was something I hadn't experienced since I was wearing Starter jackets and eating glue. The pungent odor of sweat, germs and maple syrup: I was officially back on an elementary school campus. That was the first sign that I was a foreign object in this world of books with big letters, rugs with maps of the US and assigned seating. And my objective was to find my place, and convince these young men and women to tell their stories… and wash their hands.
And if I didn't feel out of place enough on that first day, the experiences throughout the eight weeks would continue to show me. There was that time I walked across that same sun kissed playground, and a group angelically voiced kids asked me who my favorite Youtuber was. You could hear their lack of care for my wellbeing when I told them that I didn't know having a favorite youtuber was a thing. I didn't know their pop culture references, the songs, sayings nor cartoons. To my credit, I did know about Justin Bieber and El Chapo; but I didn't know Spanish, and that was the most major setback. I was there to teach them how to tell their stories, and I couldn't do so in their mother tongue.
On paper, my assignment was to lead Story For All's eight-week storytelling class at Cherryland Elementary School, as a part of their after school program; it was a pilot project. I co-wrote the curriculum with Story For All Executive Director Angela Zusman. And I was the lead teacher on the project, with part-time assistance from Angela on the classroom instruction, as well. Cherryland Elementary School is located in the unincorporated town of Cherryland, a small community just northwest of Hayward, CA. The town is most known for its fruit orchards, and the myth about the origins of Bing cherries. The community is majority first and second-generation immigrants from Central and South America, and the school is reflective of that.
My inability to speak in Spanish made for cultural barriers when it came to teaching students to write their story. One time, a student tricked me into saying the Spanish slang word for penis. As the other students laughed at me, I realized how being in a third grade classroom of Spanish speaking students was different from my experience in teaching predominantly African American high schoolers in Oakland. In comparison, these kids were ruthless.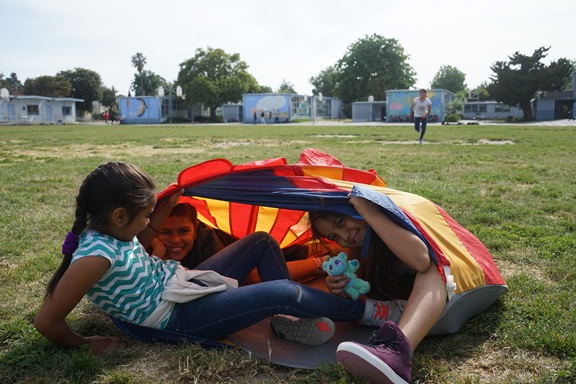 There was also that time I tried to assist a student in writing a story in his journal because he was having a difficult time spelling. Every time I said "E" the student would write "I", as the English vowel "E" is pronounced in a similar manner to how you would pronounce "I" in Spanish.
At times, I'd lose the class, as they'd talk down to each other in Spanish, and I wouldn't know what rude things they were saying to each other—nor would I know how to punish them. Again, I was the foreign object in the room.
Luckily, the class I was teaching was on the universal topic of storytelling. Stories are told in every culture. And kids, they know stories. They know good stories. They know scary stories. They know fake stories, and real stories that adults can't believe. And although I lacked cultural credit, I had the universal ammo of storytelling. I not only told stories to them about my experiences as a journalist, I listened attentively when they talked about their experiences as young people. I let them know that their stories about family members abusing alcohol or the sound of gunfire in the neighborhood weren't wrong to discuss. How else can we solve problems if we don't talk about them? When one student told me about her eczema, I told her about my eczema outbreak as a kid, and how at times of high stress, eczema still bothers me to this day.
I let them know that their stories were valid and important to not only listen to, but to record. We turned their stories into a video that people would see; people who care about their stories.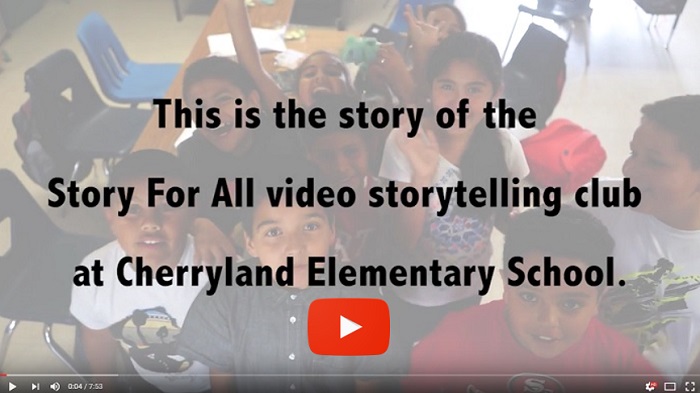 They loved the camera. Some students gravitated to filming, others were actors/ actresses. There were a handful who were initially shy, until they saw themselves on film, and then they blossomed. One thing is for sure, you don't have to teach a 9 year-old how to ask questions. When the students got the opportunity to interview their principal, the questions started flowing before the cameras were rolling!
Once the cameras were rolling, the Q&A with Mr.Itoco, the school's principal, turned into one of the best classes of the eight-week session. He was very clear with the students about their safety, the future of the school and the validity of their questions and stories. I intervened maybe once or twice, but for the most part, I was just an object in the room—not a foreign object anymore. I had become familiar. And they had become storytellers. I was an objective observant of the students' critical thinking and expressions of true interests. They were intrigued by an in depth conversation with Mr. Itoco, and they were forthright about expressing how they were/are impacted by the school and larger community.
The final class of the year was emblematic of the entire experience. I asked them to wash their hands before they dug into the food I brought to celebrate making it through the eight-week class. They ate, and were angelic. They had a little free time, roughhoused as they played and someone got hurt. That brought about tears. As soon as the tears were wiped, they were back it, playing. We did a run through of the final presentation, and no one was ready. I showed them the final video, and no one was paying attention. One student's mother brought soda for the class, and all I could tell her was "gracias", as we didn't speak the same language.
That same parent's daughter was my translator as I opened up for the final presentation. From the intro of the presentation, it was a hit. The small crowd of parents and Mr. Itoco were attentive. The students showed them illustrations that depicted their experiences of learning how to use the camera, interviewing people at the school's health fair, and understanding the power of storytelling. They were unexpectedly prepared.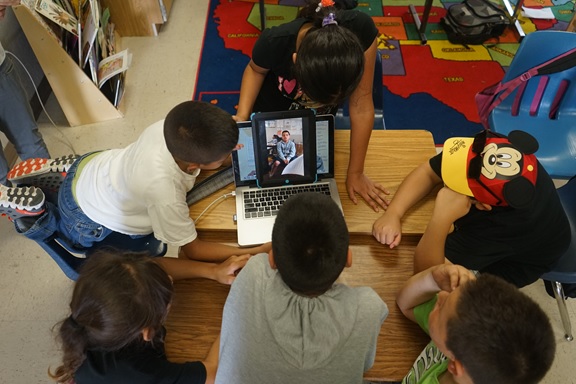 If I were asked if the eight-week session was a success, I'd say that's the wrong question to ask. The class didn't stick to the outline, as there were times the students' need for free time overrode whatever I had planned. The intended outcomes were achieved, but not in the fashion we imagined. Students absorbed the power of storytelling, and how it can cause change in the classroom, and larger society. We learned that the number of students in the class matters– the target number is around a dozen students. We found out that there are emotional ups and downs for kids, and we had to be mindful of that. We learned that there is value to having teachers who know how to speak the same language as the students, especially when it comes to getting them to share their stories. And most importantly, we learned that given a safe learning environment, students would open up and talk to us, regardless of language barriers. They told us variations of stories, from tales of their hometowns in Central America, to tales of their favorite cartoon characters; and in the end, they told us that this class was well worth their time, and if given the opportunity, they'd gladly take this class again.